October 27 to December 31, 2013
Via Naturea
Art Studio
Christinastraat 99
8400 Ostend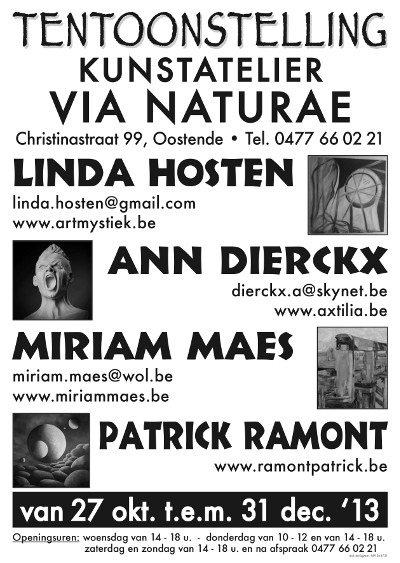 Via Naturea is an art studio, located in the heart of Ostend ...
We have organized an exhibition with four, and gave it the title: 'The Spirit'
Oil on canvas and ceramics
The exhibition runs from 27 October to 31 December 2013.
Opening hours:
Wednesday from 14:00 to 18:00h
Thursday from 10:00 to 12:00h and 14:00 to 18:00h
Saturday and Sunday from 14:00 to 18:00h
Opening:
Are you in Ostend ...
You are cordially invited to the opening on Friday, October 27th, 2013 at 16:00h.
The exhibition will be opened by Hilde Veulemans, alderman for Culture Ostend and introduction by Hugo Brutin, a.i.c.a art critic.